This post follows on from our recent post entitled "Google Street View "see inside" Features and Benefits #1 – Bars and Restaurants" which highlighted how hiring a virtual tour company in Manchester such as ours can help to boost your Google Maps local listing by using a Google tour produced by our Googgle Trusted Photographer.
In this post we highlight why as a nightclub owner you would want our virtual tour company to increase the number of customers you receive through the use of Google virtual tours and how they can help you to remain competitive.
This post is more of a case study rather than a simple sales pitch and the example we shall be using in this post is of of the longest running rock night clubs in Manchester – Satan's Hollow.
How the Satan's Hollow Nightclub Google Tour Increased Brand Awareness and Exposure
In this example we are going to use a couple of metrics: Facebook shares and Google Analytics "hits" on our own virtual tour company website.
We produced the virtual tour for Satan's Hollow back in 2014 before we became a Google Trusted Photographer. However, we took enough panoramic photos throughout the nightclub to ensure that whenever we did we could re-use the same photography and simply submit it to the Google Maps publishing platform and boost their Google Maps local listing without having to do any more photography or a re-visit.
There are now two examples of the different kinds of virtual tours which we can produce on our website from the bespoke branded virtual tours to the new Google tour. Both have their merits which overlap and diverge:
Both can be hosted on their website
Both can be embedded on their Facebook page
The bespoke branded virtual tour can take advantage of the phone's gyroscope to bring an augmented reality experience to the end user
The Google tour can be part of their Google Business listing for the local area
The bespoke branded virtual tour has a cool "little planet" effect on the intro and can also have a photo gallery and a voiceover including rock music which the nightclub normally plays in the background but has navigation less intuitive than the Google tour which can also be viewed using a Google Cardboard equipped smartphone or a VR headset such at the Oculus rift
These differences aside however they are both amazing platforms to showcase your nightclub and became the focus recently when Satan's Hollow decided to share links to the virtual tours on their Facebook page and here are the results:
152 likes, 19 shares and 20 comments on a single post on their wall in the passing weekend which the post was in the Facebook feed of the general public for. Each of the 19 shares could also have had a further 20 comments each and a similar number of likes.
The interesting point is that their posts usually only have up to 5 shares on average and 100 likes. So this post out performed the majority of their previous posts only being beaten by the announcement of the bank holiday weekend and the ACDC after party and who can blame them.
Another point to mention which is possibly more important than the sheer number of posts / comments is what was actually said. Comments such as:
Coolest venue ever !

We need to go back
Incase you bro wants to know what it's like in there 😉
and finally……
I know what I'm looking at through my VR glasses later.
I'm sure they gained a few likes on their Facebook wall as a consequence of the link to the Google Tour too.
Google Analytics Statistical Evidence for Our Own Virtual Tour Company Website
We check our hits to our website regularly and were not surprised in the slightest to see a spike in the number of people checking out our website during the period which Satan's Hollow had announced the link to the virtual tour we had proceeded for them. Here's the results for when it happened: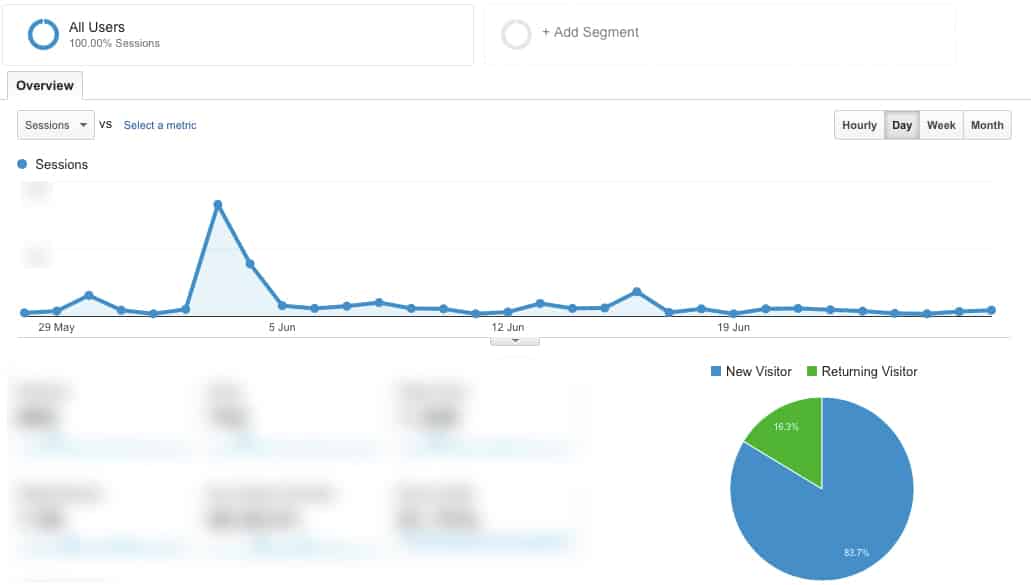 Can you see what we see here? That's right. It's all down to the Satan's Hollow virtual tour being shared on Facebook (yes we filtered the results to see why we were getting such an irregularity). We thank Satan's for sharing the love of virtual reality with the rest of the world and for proving the point that sharing Google tours on your social media streams does actually work for your nightclub.
If you would like our virtual tour company to help you to raise brand awareness and stay competitive then get in touch today and our Google Trusted Photographer will be in touch to discuss your photoshoot.