Offices and Commercial Property Virtual Tours
Rent empty commercial properties faster and more cost-effectively with our commercial property virtual tours and stop throwing money down the drain.
An All-in-one Commercial Property Marketing Solution
Every single day that an office is empty it's costing you money – money which could be spent on better things. We also understand that your time is a valuable commodity, and dealing with multiple agencies for different services can be time consuming. We provide you with a one stop commercial property marketing solution combining 3D Matterport Virtual Tours, bespoke branded virtual tours, commercial property video tours, aerial drone photography and video, high resolution photos, print ready commercial property brochures and websites.
Explore an example of a Matterport 3D office virtual tour:
So much more than a commercial property virtual tour.....
We know that the more agencies you have to deal with, the more it costs you both in time and money. Time spent dealing with multiple parties could be better spent acquiring new instructions or clients. Simply instruct us to visit the property and in one visit we will deliver:
High Resolution HDR Commercial Property Photos
Every Matterport 3D virtual tour we produce comes with high quality, high resolution HDR wide angle photography as standard with no need for us to re-visit or re-shoot.
Commercial Property Floor Plans
Professional commercial property floor plans provided in multiple file formats for print and the web without additional site visits. These can be uploaded to your chosen property portal and included in your print ready PDF commercial property brochures. The floor plans are created from the 3D data captured by the Matterport camera and are accurate to within 99% of reality.
Commercial Property Video Tours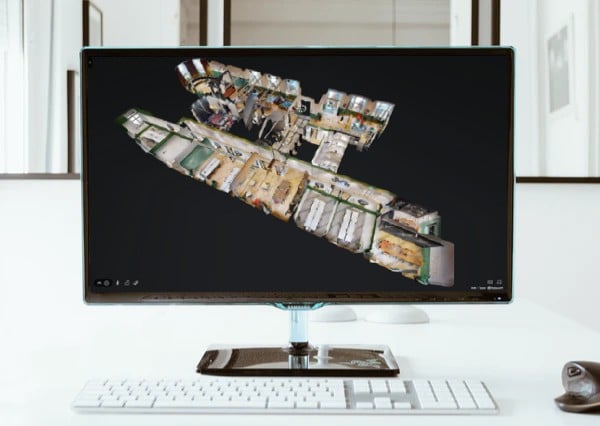 An increasingly popular addition to the 3D Matterport virtual tours are the property video tours.
These MP4 video tours can be uploaded to YouTube, Facebook, Instagram, Twitter, LinkedIn and other social media platforms. They compliment the 3D Matterport virtual tours and can be used to drive traffic to them.
The example video tour here was taken from the example 3D Matterport virtual tour further up the page. Click the play button to watch it now.
Explore an example "Google My Business" / Google Maps virtual tour:
Commercial Property Matterport Virtual Tour Pricing
Pricing for 3D Matterport virtual tours for commercial property is based on the area to be captured in either square meters or square feet based upon the following table.
Additional extras are priced as follows:
Upload to Google Street View: £75+VAT per property
Commercial property video tours: £150+VAT per property
Floor plans: £50+VAT per property
Commercial property brochures: £450+VAT per property
Commercial property websites POA
1 square meter = 10.764 square feet
Want to sell more properties whilst saving time and money? Have any questions?