Holiday Park, Caravan and Lodge Virtual Tours
Sell more holidays, caravans and holiday lodges and save time and money using virtual tours.
An All-in-one UK Holiday Park Virtual Tour Solution
With thousands of holiday parks to choose from in the UK, you need to make sure that yours is on the minds and shortlists of potential holiday makers. We provide you with all the tools necessary to make sure you're giving 100% to achieving this, including 3D virtual tours and video tours of holiday lodges and caravans, and virtual tours of the park and facilities themselves. Give your customers the ability to explore your holiday homes and facilities as though they are actually there right from the comfort of their own home.
Explore an example holiday lodge 3D virtual tour:
So much more than a caravan / holiday lodge virtual tour.....
We know that the more agencies you have to deal with, the more it costs you both in time and money. Time spent dealing with multiple parties could be better spent acquiring new instructions or clients. With a single visit from one of our professional virtual tour photographers, we provide a full package including:
High Resolution HDR Caravan / Holiday Lodge Property Photos
Every Matterport 3D virtual tour we produce comes with high quality, high resolution HDR wide angle photography as standard with no need for us to re-visit or re-shoot.
Commercial Property Floor Plans
Professional commercial property floor plans provided in multiple file formats for print and the web without additional site visits. These can be uploaded to your chosen property portal and included in your print ready PDF commercial property brochures. The floor plans are created from the 3D data captured by the Matterport camera and are accurate to within 99% of reality.
Caravan Sales and Holiday Lodge Video Tours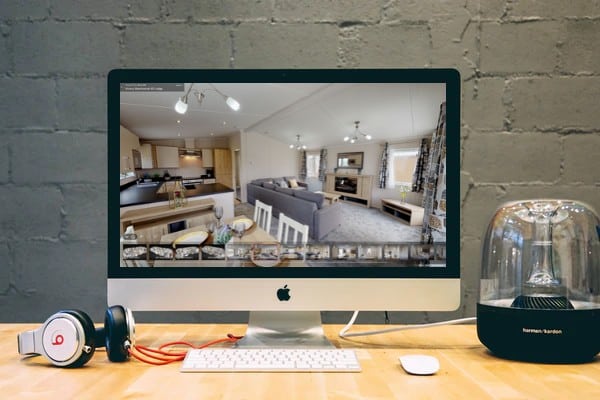 In addition to the 3D virtual tours we also offer you a video alternative which can be uploaded to your YouTube channel, Facebook page, Instagram, Twitter and any other social media accounts you use to promote and sell caravans and lodges online.
The main goal of the video tours is to act as a "movie trailer" which drives traffic to the 3D virtual tour itself where the real fun begins.
The example video tour here was taken from the example 3D Matterport virtual tour further up the page. Click the play button to watch it now.
Explore an example Caravan Park 360 virtual tour:
Selling holidays can be like a "walk in the park!"
This truly amazing technology could have been invented for holiday parks… it is that essential. Using interactive controls potential clients simply navigate their way through homes and parkland searching leisurely for their ideal holiday home.
No other marketing tool can put a walk in the park so clearly in the hands of a client.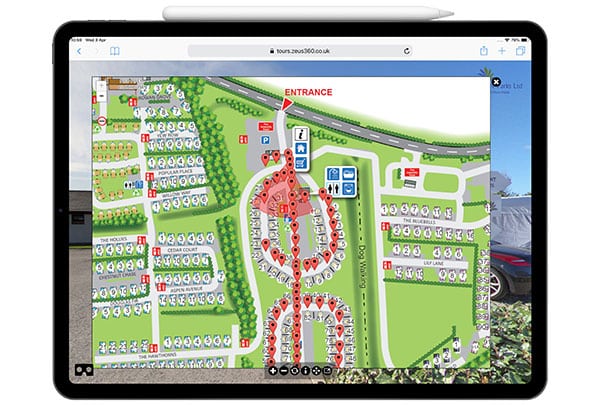 Custom Navigation Maps
We offer a fully bespoke service including custom navigation maps. These maps allow you to fully understand the layout and facilities of the park as well as allowing you to instantly move around the park using the pins on the map.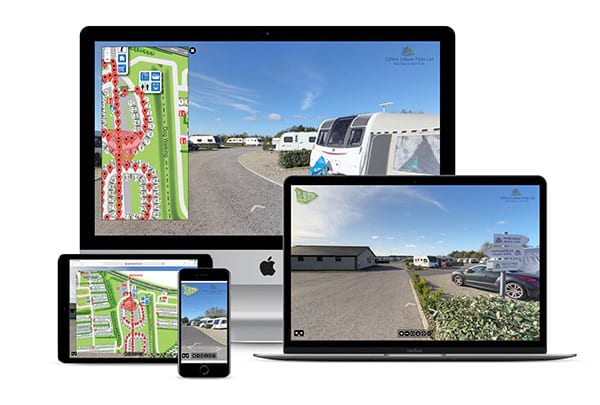 Multiple Device Support
All our 3D immersive virtual tours are supported on desktop and laptop computers, tablets and mobile phones. You can also have a portable VR headset with you at trade shows to bring a real talking point to the show.
Branded Virtual Caravan Park Tours
The virtual tour comes with custom branding as standard including your caravan park logo on the top right and in the example above a custom branded map which appears when clicking on the thumbnail on the top left. Images, links and videos can all be added to the virtual tour to make them a truly interactive experience.
Start the Virtual Tour from Anywhere on the Park!
If you are selling a static caravan or lodge you can send a link to a potential customer which starts their virtual tour from outside the caravan or lodge for sale. This means they can walk from the holiday home around the park as if they had already made the purchase!
Caravan and Holiday Lodge Matterport 3D Virtual Tours Pricing
Caravans and holiday lodges are £150 per holiday home each +VAT.
Additional extras are priced as follows:
Caravan and holiday lodge video tours: £75+VAT per property
Floor plans: £25+VAT per home
Holiday lodge property brochures: £225+VAT per property
Caravan and Holiday Park 360 Virtual Tour Pricing
Pricing for our holiday and caravan park virtual tours is tailored to your budgetary requirements and based also on the size of your holiday park and the number of different facilities you have on offer.
Holiday park website design and development is based upon an initial consultation where we work to fully understand your requirements to give you a price which not only fit your budget but gives you what you need from a holiday park website.
Want to sell more holidays and caravans whilst saving time and money? Have any questions?