School virtual tours have become a cornerstone for institutions aiming to showcase their facilities. North Halifax Grammar School, with its prestigious history and commitment to excellence, has recently embraced this cutting-edge technology.
Working with Rejuvinate Digital – our white-label virtual tour services
Through a white label collaboration with Rejuvinate Digital, a Leeds-based digital powerhouse, the school has launched an immersive Matterport tour for its 6th form centre and sports hall. This initiative not only underscores the school's innovative approach but also highlights the growing importance of school virtual tours in the educational sector.
These Matterport tours were an addition to the bespoke / branded virtual tour which was produced for the rest of the school.
Here's the Matterport virtual tour of the school 6th form centre:
The decision to employ Matterport technology for the sports hall and 6th form centre stems from its unparalleled ability to capture large spaces with striking clarity and navigational ease. School Matterport tours provide a virtual walkthrough that is as informative as it is visually compelling, offering a fluid, user-driven experience.
And here's the Matterport tour of the school sports hall:
This Matterport tour for North Halifax Grammar School is more than a virtual walk-through; it's a testament to how digital innovation can amplify the educational narrative. School virtual tours, especially those created with the fidelity of Matterport technology, are rapidly becoming the cornerstone of how educational institutions present themselves in an increasingly digital world.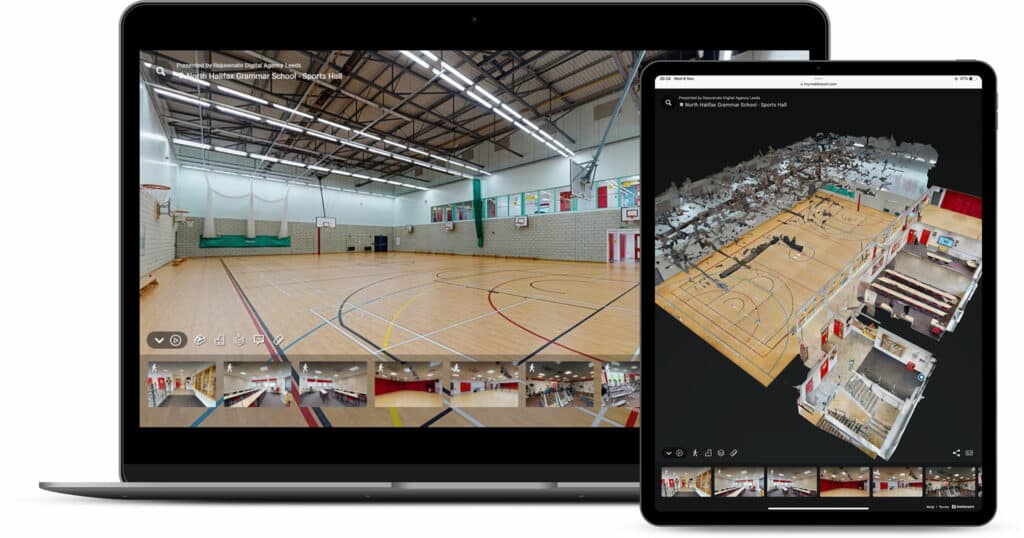 The benefits of school virtual tours for parents and students
The benefits of these school Matterport tours are multifaceted. For parents and students making crucial decisions about their educational future, the tours serve as a transparent window into the school's facilities. They can explore the spaces at their leisure, revisit areas of interest, and gain a comprehensive understanding of the school's physical offerings. For the school itself, this digital asset is a powerful marketing tool, demonstrating their commitment to transparency and modernity.
Collaborating with Rejuvinate Digital, the project also emphasized the importance of white label partnerships in the digital service industry. The expertise I brought to the table, coupled with Rejuvinate Digital's vision, culminated in a school Matterport tour that aligned flawlessly with the school's digital outreach efforts.
As we move forward, it is clear that school Matterport tours will continue to shape the way schools interact with their prospective communities, and I am proud to have been involved, working with Rejuvinate Digital on this transformative project.