Christy, renowned for its lavish bedding and towels, is a brand that epitomizes luxury. With a legacy built on over 170 years of unmatched quality and a sense of timeless elegance, it's no wonder their name is synonymous with opulence. I recently had the privilege of capturing this grandeur through a Matterport virtual tour of Christy's showroom, and I'm thrilled to share this experience with you all.
Experiencing Christy in 3D
In today's digital world, where online interactions increasingly influence our purchasing decisions especially with overseas buyers, the immersive nature of a Matterport tour sets it apart. Through this lens, purchasers don't just see a space – they step inside it.
The Matterport virtual tour I crafted for Christy's showroom is not just a visual treat. It's a tactile experience, virtually speaking. As you navigate through the showroom, you almost feel the softness of the towels, the plushness of the bedding, and the ambiance of the brand enveloping you.
Highlights of the Matterport Showroom Virtual Tour
3D Walkthrough: Matterport's state-of-the-art technology allows potential buyers to traverse the entire showroom, navigating through aisles and between displays with smooth transitions.
Detailed Imaging: Each product's intricacy, from the delicate stitches in the bed linens to the unique weave of the towels, is visible, thanks to Matterport's high-resolution imaging.
Interactive Hotspots: Every single product features clickable hotspots. These icons provide deeper insights into product details with product codes, descriptions and available colours. They can even contain photo galleries, links to external web pages and even embedded video content.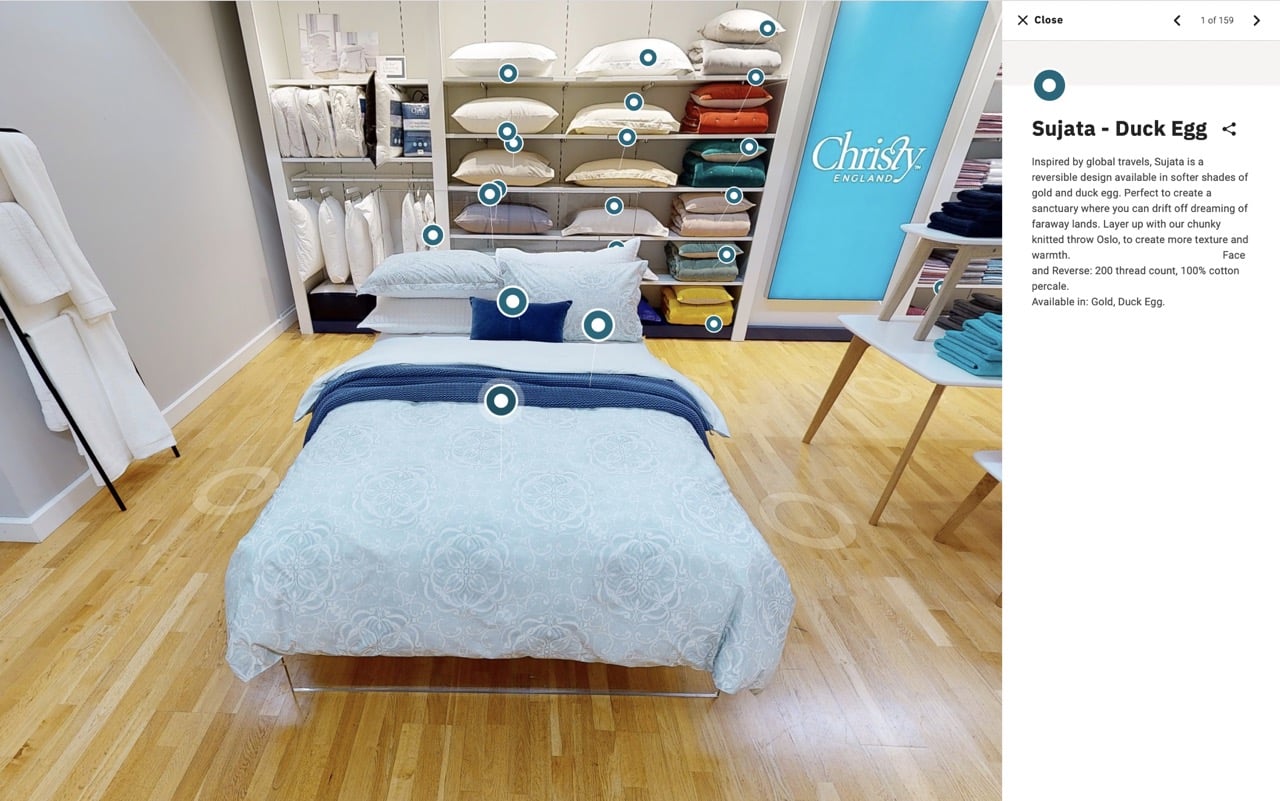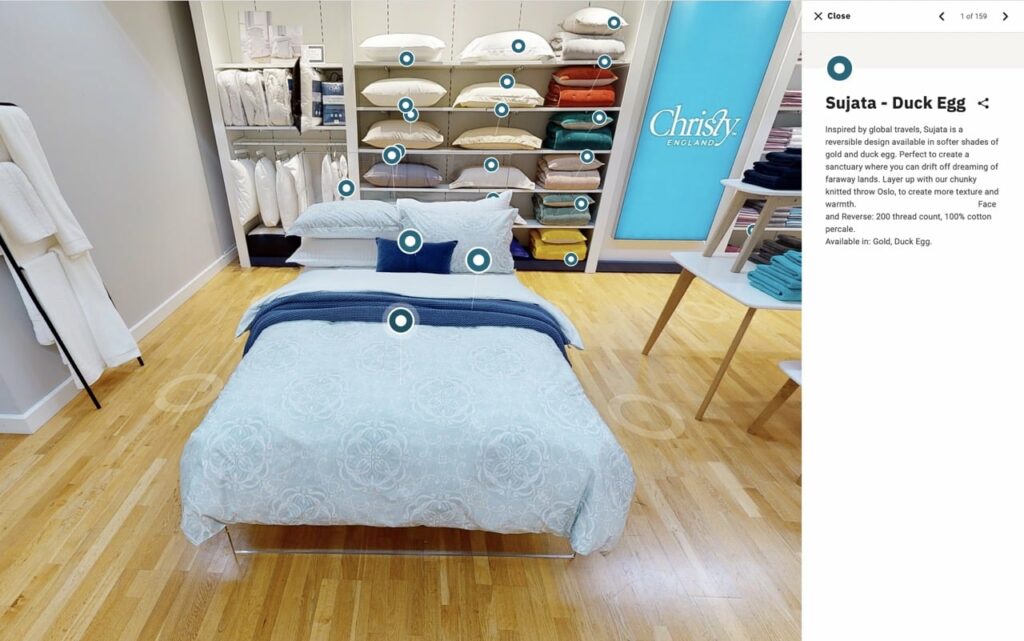 The Making of the Matterport Virtual Tour
Creating the Matterport showroom virtual tour is a fusion of modern technology and cloud computing. For Christy's showroom, every corner, every shelf, and every product was meticulously captured using the Matterport camera to ensure the virtual experience mirrored the physical one. The ambiance, the lighting, and the aura of elegance were all crucial components that were diligently integrated into the final tour.
Final Thoughts
The Matterport virtual tour of Christy's showroom offers an unparalleled peek into the brand's world of luxury linens and towels. For those who can't visit the showroom physically, this tour is not just the next best thing – it's an evolved experience in itself and an essential part of the buying process and the sales team simply love how it makes their showroom available to a global audience 24/7.
If your business seeks to elevate its digital presence with an immersive 3D experience like Christy's, please reach out. Together, we can craft a Matterport tour that does justice to your brand's grandeur.
Do you have a showroom and want to enhance your regional and global client engagement with a sophisticated Matterport showroom virtual tour? Contact us today to arrange a booking.